Tornado
The multi-range Tornado offers a 3 gallon tank, large formulation filter with removable screen and a precision control metering valve that allows adjustable outputs from a heavy mist of 5 gallons per hour down to low outputs in the ULV range. Ideal for humidification control in greenhouses, general pest control and application of germicides and disinfectants.
Now you can apply pesticides deodorants, fungicides, duct sealant, disinfectants, miticides, etc. much safer, more efficiently, more economically and in a variety of indoor/outdoor applications such as hospitals, schools, homes, hotels, resorts, greenhouses, food processing plants, warehouses, dairy and poultry farms and horse stables.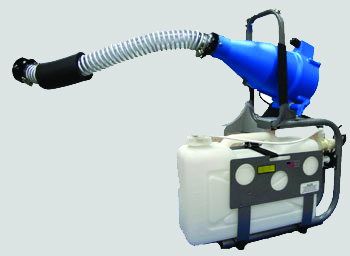 Tornado/Flex
The Tornado fitted with an 18 inch (46 cm) flexible hose.
Download:
Product Data Sheet:   TORNADO and MISTER III PDS 03_16 (updated March, 2016)
Operator Manual:
TORNADO 8-29-2011
TORNADO FLEX HOSE 11-4-2013
TORNADO FLEXHOSE SPANISH 11-4-2013
TORNADO SPANISH 8-29-2011